A Flinders St address
Rhonda Dredge | 22nd June, 2022
When you meet someone who has just moved into the CBD you think that it's all about what is happening at ground level.
For Lizzie Pearce, a writer, it's about getting some thinking space.
"I'm going to read and write twice as much because I can sit in my sunbeam," she said.
The CBD is a concept as well as a place. Lizzie likes the idea of large groups of people of different kinds living nearby.
She doesn't have any specific information about what she'll be doing, just an amazing view from their 26th floor penthouse to contemplate.
Even that she's leaving for a while. "I won't look at it until Wednesday," she said.
The apartment block on Flinders St was designed by her husband James and this is the first time he's lived in one of his buildings.
There are some design features that he's keen to test out such as the formula for sway that's embedded in there somewhere. Will the light also sway above the dining table?
The couple and their three kids have done the opposite of their friends post-lockdown and moved in closer to the city, rather than out for more space.
They've traded in a converted factory down a laneway in Richmond for a full-frontal, light-filled apartment overlooking everything to the south.
"We won't have to wake up to food scraps and bottles outside the door," Lizzie said as she figured out what she had left behind.
"I was so sad to leave Richmond but 24 hours later I've basically forgotten it exists. So brutal. I'm very excited to be here on the upper east side."
Lizzie has just finished the draft of a memoir about her "wild and difficult" childhood and her years as a writer for MONA in Tasmania, where her irreverent spiels on art did so much to set the scene for that cultural institution.
She's not afraid to commentate on her life. In fact, it's her specialty, as she searches for the words to describe her move from a community she knew well to a …
They've done the usual search for coffee and found it at the base of their building, and they've had baked beans and toast at an old-school diner on Spring St. They've unpacked boxes and Lizzie has written to-do lists for James. They've fessed up to how urban-oriented they are (Lizzie gets claustrophobic when she's in Tassie or even on a holiday).
They've stopped for a moment from the analysis and are sitting at their table having a cup of tea. Jack is on his iPad. The dog is on his mat on the balcony.
"I'm finally in environs that match my inherent pretentiousness," Lizzie said with a smile. •
Caption 1: Lizzie Pearce and her view.
Caption 2: Lizzie and Jack: proud of their Flinders St address.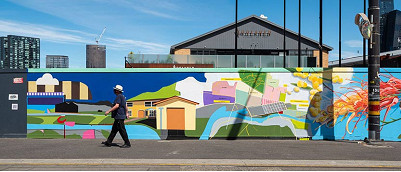 November 21st, 2023 - Adrian Doyle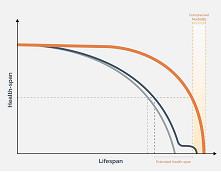 November 21st, 2023 - Susan Saunders

Subscribe
to
all
the
news
Like us on Facebook
Download the Latest Edition