Architects deliver on promise
Rhonda Dredge | 27th July, 2022
Architects are often left out of the equation when it comes to promoting finished buildings, the accolades going to the developer or real estate agents.
That's, of course, unless they've won an award, when at least they get to talk about their vision.
Architect Clement Nyanja came onto the 405 Bourke St project four-and-a half years ago.
He worked through the lockdown and experienced the desolation of the city when just one cafe was open in Hardware Lane opposite.
Now he is speaking on behalf of CBD architectural firm Woods Bagot in happier times.
Last month, after a difficult build and an 11-year gestation period, the project won the Royal Australian Institute of Architects award for the best commercial building.
The 30-metre cantilever over the former heritage McEwan's store and a dramatic lantern on the atrium helped clinch the architectural prize.
The concept for the building was inspired by the sculpture of Gerhard Richter at the Tate Modern in London and it was this concept, according to Clement, that helped win the job for the firm from the developers Brookfield Properties.
"When panes of glass are stacked you get a mirror effect," he said. The stacking concept was repeated throughout the building, interpreted as a kind of tesselation in the marble-lined walls plus the glass lantern.
The building has enormous floor plates of 21 square metres, and a high-ceilinged lobby that the judges called "heroic".
"This entry is flashy and posh," Mr Nyanja said. "NAB [the tenants] wanted to be subtle. They chose the heritage entrance." Their sky lobby is on the first floor of the residential building next door.
This configuration also integrated the bank entrance with a new two-level laneway through to Little Collins.
NAB moved into the 39-storey tower last November after vacating their Docklands premises, also designed by Woods Bagot.
The CBD is once again attracting corporates, Clement says, after taking second place for some time to the edge of the city.
"The project was put on the shelf for a while because of the GFC. Commercial buildings had moved to the edge of the city. There were not many in the centre. In 2016 the project became viable again." •
Caption: Architect Clement Nyanja in the flashy entrance to 405 Bourke St.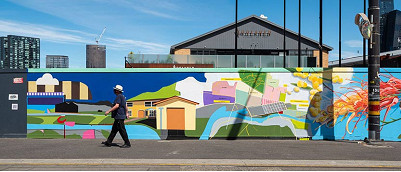 November 21st, 2023 - Adrian Doyle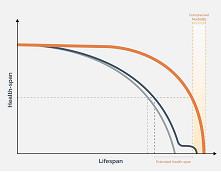 November 21st, 2023 - Susan Saunders

Subscribe
to
all
the
news
Like us on Facebook
Download the Latest Edition