Huge win for cyclists as Princes Bridge gets separated lane
David Schout | 23rd November, 2022
A physically separated bike lane has been installed on one of the most prominent routes into the CBD, in a huge win for cyclists.
Those using pedal power can now travel without fear of looming vehicles along Princes Bridge, the river crossing for Melbourne's busiest bike corridor, Swanston St-St Kilda Rd.
Cyclists have been calling for separated lanes on the prominent bridge for years as drivers, in particular taxis, have often paid little attention to the previous "painted" lanes.
The new kerb-high barriers ensure the northbound lane can be exclusively used by cyclists.
Lord Mayor Sally Capp said these and other separated bike lanes installed throughout the city were crucial.
"Princes Bridge is an iconic Melbourne attraction, in the middle of one of the busiest cycling routes in our city," Cr Capp told CBD News.
"We've been working hard to improve the roadway, undertake important waterproofing and install a new set of bluestone lane separators for the northbound bicycle lane."
"These upgrades will help to ensure this busy thoroughfare remains safe for all road users."
Kerbside protected bike lanes separate bike riders from motor traffic, and the physical barriers have been proven to both increase the confidence of cyclists and improve the chances of getting people on two wheels.
The council's 10-year Transport Strategy released in 2019 — which remains its guiding document on transport matters until 2030 and was backed by an independent review in late 2021 — noted that would-be cyclists are far more likely to jump on two wheels with protected lanes.
A survey completed for the report found that just 22 per cent of cyclists are confident riding alongside cars on a painted bike lane, while that number rose to 83 per cent with kerb-high separation.
The new separated cycling lanes are part of wider works on Princes Bridge, which also include a multi-million-dollar project to repair the bridge's iconic bluestone.
The works, which the council allocated $4.1 million to in the 2022-23 budget, include cleaning existing bluestone blocks, resetting bluestone blocks that have shifted out of alignment, and general conservation works to ensure the longevity of the bridge.
St Kilda Rd works near completion
For cyclists travelling in the opposite direction — southbound out of the CBD and down St Kilda Rd — significant bike lane works were almost complete at the time of publication.
As one of Victoria's busiest transport corridors and one of the most dangerous for cyclists and pedestrians, the state government told CBD News that stage one works between Linlithgow Avenue and Dorcas St would be completed before the end of 2022.
Stage two of the project, between Toorak Rd and Union St, started in November and was expected to be completed by mid-2023.
Around 3500 cyclists ride along St Kilda Rd daily, and the government said cyclists were more likely to be seriously injured by car-dooring (where a driver opens their door in front of an oncoming cyclist) on St Kilda Rd than anywhere else in Melbourne.
"We're working to make St Kilda Rd safer for the 300,000 people who use it every day by physically separating drivers and cyclists," a government spokesperson said.
"When completed the bike lanes will integrate into the new Anzac Station precinct, being built as part of the city-shaping Metro Tunnel Project providing all Victorians with better access to our renowned St Kilda Rd." •
Photo caption 1: A kerb-high barrier was installed in early November (Picture: Twitter @michael_of_melb)
Photo caption 2: Taxi drivers often paid little attention to the previous 'painted' bike lanes on Princes Bridge (Picture: Twitter @JulieMilland)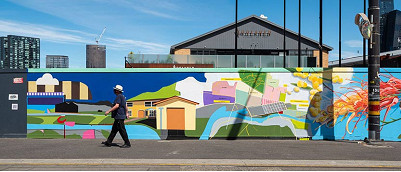 November 21st, 2023 - Adrian Doyle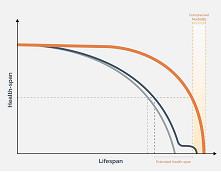 November 21st, 2023 - Susan Saunders

Subscribe
to
all
the
news
Like us on Facebook
Download the Latest Edition