Analysts endorse $300 million Greenline project and predict triple return on investment
David Schout | 21st September, 2022
A $300 million green trail along the north bank of the Yarra River will more than pay for itself according to economic analysts, in a tick of approval for Lord Mayor Sally Capp's legacy project.
"Greenline", the proposed four-kilometre path from Birrarung Marr to the Bolte Bridge, will deliver more than $3 of value for every dollar spent according to a business case prepared by consultancy group Ernst & Young.
The analysis is a strong endorsement for Cr Capp's project, which she made a key part of her 2018 by-election and 2020 general election strategies.
The business case forecasted an increased economic activity of $740 million over 20 years because of Greenline, which was expected to be completed in 2028.
It was expected to create more than 3400 jobs during construction and more than 6400 ongoing jobs by 2042.
The City of Melbourne hoped the strong business case will attract greater levels of investment from upper levels of government.
So far, the federal government has committed $20 million to the project, while the state government was yet to come to the table. The council needed further commitment for the entire project to be fully delivered, however was confident of garnering the required investment.
Cr Capp said Greenline, which she has declared would represent Melbourne's "biggest transformation" since the opening of Federation Square in 2002, would welcome "waves of new visitors, and inject millions of dollars into our economy".
"The business case unequivocally shows the Greenline Project stacks up, delivering $3 for every dollar invested, and $740 million worth of economic and community benefits for Melbourne and Victoria," she said.
"We need to be ambitious – and this is exactly the sort of project Melbourne needs to grow, drive investment and cement our position as Australia's most liveable city."
The analysis showed Greenline would attract more than 1.1 million additional visitors to the city every year, who will spend more than $23 million annually.
Beyond its economic value, the business case predicted the four-kilometre trail would also create a $60 million benefit from protecting and enhancing the environment, and $250 million in "social value" due to 330,000 hours of new recreational activities and the celebration of Aboriginal culture along the trail.
Speaking before City of Melbourne councillors unanimously endorsed the business case at a September 6 Future Melbourne Committee meeting, Cr Capp said the analysis would be essential to secure crucial additional funding.
"[It] helps set us all up for success, as we continue to work with key stakeholders on the delivery of Greenline, particularly in relation to our discussions with state and federal governments."
The Lord Mayor said the analysis "tested and verified" that the project will drive "significant economic, environmental and social outcomes".
"The business case tells a spectacular story of how our investment in Greenline can help shape Melbourne's future in a significant way … we know that Greenline will increase economic activity through improved land values as infrastructure is upgraded through new parkland as it is installed, and new pedestrian and visitor movements increase."
Delivery of the project will take place in stages, with work on "site one" at Birrarung Marr expected to begin in mid-2023.
The council released these plans in late July, which included a new 450-metre boardwalk at the prominent spot along the river.
These first works "set a high design standard for the remainder of the project" according to Cr Capp.
Inspired by New York's High Line trail, Greenline was set to be divided into five specific "precincts" on the river's north bank, with a total of 16 separable stages.
The five precincts are (east to west): Birrarung Marr, The Falls ("Yarro Yarro" in earlier plans), River Park, Maritime and Salt Water Wharf.
The CBD stretch of the Yarra River's north bank has long been earmarked for revitalisation and has long been lamented for its underwhelming and uninviting areas.
A draft Greenline plan released in May 2021 was damning in its review of the river's northern side compared with Southbank and declared that it was "broadly characterised by a lack of cultural expression, limited ecological or habitat value, poor pedestrian and community connectivity, and a lack of social amenity".
The Lord Mayor said Greenline would "rehabilitate" Northbank. •
Caption 1: Economic analysis has strongly backed the four-km trail along the Northbank.
Caption 2: An artist impression of the proposed boardwalk at Birrarung Marr.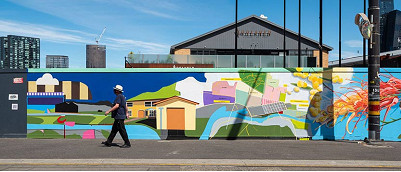 November 21st, 2023 - Adrian Doyle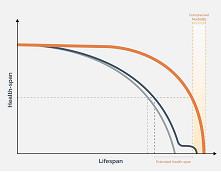 November 21st, 2023 - Susan Saunders

Subscribe
to
all
the
news
Like us on Facebook
Download the Latest Edition