CBD trader calls time as the city becomes overrun with crime and anti-social behaviour
Brendan Rees | 25th May, 2022
A CBD trader fed-up with the city looking "grubby" and being overrun with anti-social behaviour says he will shut up shop once his lease ends next year.
Rikki McAndrew, who owns McAndrew Jewellery on Little Collins St, said the increasing level of crime including drug activity, graffiti, and people running amok was "very frustrating and quite scary."
"It's not just about graffiti. It's more than that. I'm constantly harassed in the city, and I know everybody else is too," he said, adding he had to lock his shop door on occasions.
Mr McAndrew, a CBD resident who has run his shop for the past eight years, said the city was being ruined with many of his customers no longer wanting to visit anymore because they felt threatened.
He also pointed to some laneways "looking filthy and grotty", which he said should be made appealing as it would be "a great thing for the tourist brochures."
"The respect of the city is gone. Nothing is really being solved, it's being sugar-coated and that's never going to work," he said.
I want to leave, which is sad. When my shop lease is up in October next year, that's it for me, I'm gone.
Mr McAndrew's concerns come after police arrested and charged a 25-year-old man who allegedly stabbed a shop attendant at a convenience store on the corner of Franklin and Elizabeth streets about 11.30pm on May 18, leaving the victim with serious injuries.
In a separate incident, a 20-year-old woman was taken to hospital after being assaulted while walking with her friends in King St about 5am on May 8.
And in a third incident, a group of male youths were seen scrawling graffiti on several buildings near King St, Flinders St, and Queensbridge St on May 6.
Police arrested a 22-year-old man who was charged with criminal damage offences; however, officers were still on the hunt for the rest of the offending group.
The City of Melbourne recently undertook a "graffiti blitz" in the CBD as it battled to fight a 60 per cent increase in the vandalism act since the pandemic began.
However, Lord Mayor Sally Capp conceded that, "we don't have the unlimited resources to just keep cleaning."
Little Bourke St, Elizabeth St, Bourke Street Mall, Little Collins St, and the Flinders St and Collins St block were in the top five "high-repeat offended areas," according to a council report in April.
The council's city activation portfolio lead Cr Roshena Campbell said graffiti was a "scourge on our city" with visitors reporting, "It's dirty, it's not the Melbourne I knew; I'm not coming back."
The City of Melbourne is aiming to work with the state government, Victoria Police, and the M9 councils (an advocacy group made up of nine inner city councils) in a "coordinated approach to graffiti deterrents."
Marlene Crowther, who works as a valuer at Keshett Jewellery at Little Collins St, said graffiti vandals had recently targeted the corner of her shop.
"The council have spent a great deal of money removing what is just rubbish graffiti, which is a great waste of resources," she said.
Victoria Police launched Operation Fade in the CBD in February this year, targeting those involved in graffiti and vandalism.
Rafael Camillo, president of local residents' group Residents 3000, said while the removal of graffiti had been positive, be believed more police was needed in patrolling the streets.
President of CBD residents' group East Enders Dr Stan Capp said the graffiti blitz seemed to have been effective but added "this is such a recurring problem that it will need to become part of normal business."
Meanwhile, Mr McAndrew believed "one small problem is revolving into other problems."
"I would be happy to get right out to an outer suburb where they've got their own community." •
Rikki McAndrew, who owns McAndrew Jewellery on Little Collins St, says he no longer feels safe in the city. Photos: Murray Enders.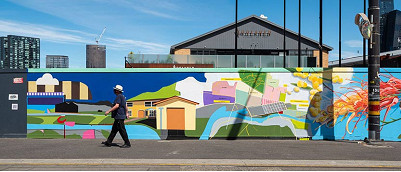 November 21st, 2023 - Adrian Doyle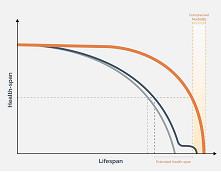 November 21st, 2023 - Susan Saunders

Subscribe
to
all
the
news
Like us on Facebook
Download the Latest Edition