Council endorses major revamp of landmark David Jones building
Brendan Rees | 24th November, 2021
The CBD's iconic David Jones building is a step closer to being transformed into a retail and office tower after winning the City of Melbourne's support.
A $22.5 million redevelopment proposes to demolish parts of the heritage-listed Bourke St building to make way for retail spaces, modern offices, a supermarket, and rooftop terraces in what Lord Mayor Sally Capp described as a "significant investment" to revitalising the city.
Councillors unanimously approved the proposal at their November 9 Future Melbourne Committee meeting, but the applicant and owner of the Bourke Street Mall menswear store, Newmark Capital, would need the final nod from the state government for development to go ahead.
Newmark Capital wants to create new ground level shops and canopies to Bourke and Little Collins streets as well as additional structures from levels four to six of the building at 299 Bourke St. It would also see new entrances created at the southeast and northwest corners and repainting of the existing façade.
Under the plans, partial demolition would occur on the west elevation to create new openings to the ground floor and window openings at levels one to five of the 11-storey building.
According to a council report, the applicant has applied for a separate Heritage Victoria permit with the council having been advised that a decision would be made at the end of November.
"Council's heritage advisor generally supports the proposal, noting the development is without substantial heritage impact, including the largely hidden upper levels and side wall alterations/entries," the report said.
Melbourne Deputy Lord Nicholas Reece said it was a "really exciting proposal" which would see the Bourke St frontage replaced with a stylish shop front, metal canopies, and glazed facade as part of an enhancement of both the Bourke and Little Collins St frontages.
He said the application by Bates Smart architects "deserves very careful consideration" as "it's hard to think of a more iconic retail location in Melbourne than the Bourke St Mall".
"In fact, when people say, 'busier than Bourke St,' it's probably this location that they have in mind," Cr Reece said.
"The plans for three levels of retail office space and active frontages on both Bourke Street Mall and Little Collins St are very much welcome."
He added that Bates Smart had "done an excellent job" with the design of the redevelopment which "certainly does meet with the design excellent standards that we now require on all applications in the City of Melbourne".
However, Cr Reece flagged that the changes proposed for the ground floor and shop front facades to Bourke St and Little Collins St would need "some further work". "We're really requesting, challenging in a positive way Bates Smart and the team at Newmark to think about how they can integrate those upper levels with the ground level shop fronts."
Cr Reece also noted that the council would work with Newmark regarding a permit condition for an additional pedestrian entry at Union Rd which would aim to "improve activations and connections" with The Walk development at 309-325 Bourke St.
He said by "making the David Jones building more permeable to Union Lane, we can really ensure that this laneway becomes a vibrant hive of activity".
"There's commitment of goodwill there from the city of Melbourne to work with the applicant to see if we can satisfactorily resolve that noting that the permit condition remains around the additional pedestrian entry, but as I said with the commitment to working around the principle of laneway and activation."
Heritage portfolio lead Cr Rohan Leppert, who described the planning application of a "high-quality design," agreed with the Deputy Lord Mayor, saying it's a "really interesting policy issue the proposed new entrance on to Union Lane".
"On the one hand, we'd like to retain heritage fabric and on the other we would like to improve pedestrian permeability," he said, but added the amended motion "allows for this question to continue to be resolved after issuing a permit".
In addressing the council chamber at the November 9 meeting, joint managing director of Newmark Capital Chris Langford, whose organisation acquired the landmark site for $121 million last year, said they were "very proud" to have had the opportunity to refurbish the David Jones building.
He said his team had been "very careful to maintain and retain as much of the building as possible with limited structural intervention" and "preserving the integrity of the structure whilst activating the upper levels for office occupation".
He said it was Newmark's intention to be "shovel ready" with the refurbishment to start "as soon as practicable," adding they had a "number of leasing deals well advanced and retailers and office tenants buying up to occupy the building from early 2023".
"It's been such a confidence filling response that we're thrilled," he said with their office leasing campaign also having recently launched and receiving "very strong interest".
"I think it is a testament of the efforts that businesses and property owners are going to get people back into the city."
Lord Mayor Sally Capp commended the proposal, saying it "shows confidence in the future of our city" and would deliver "value and vibrancy to our economy and community".
"It's a significant investment … we've come out of being the city with the most days in lockdown of the municipality that's had the toughest trading conditions of any across Australia," she said. "I think this project is really symbolic of the significance of the future that people can expect here in the city of Melbourne, which is a city of possibility."
Vaughan Connor, director of Contour Consultants, said it had been in "ongoing dialogue" with Heritage Victoria and "we're confident that that version of plans will be supported and that we no need to amend the planning permit".
"All new works have been designed sensitively having regard to the inherent heritage significance and additional floor area is modest, visually recessive and will not compete with the host building," he said.
"At ground level, there's a need to strike a balance between public realm aspirations, heritage considerations, constraints associated with the existing building and also commercial leasing considerations."
Rafael Camillo, president of Residents 3000, said while he welcomed the proposal, there was discussion on "what a loss it was for our locals" and he would await Heritage Victoria's response to "partial demolition and works".
"I like the idea of a rooftop overlooking the Bourke St precinct, considering that both sides of the building do not present any residential dwellings," he said.
"It is the best location to be adding a rooftop, of course, without compromising the heritage of this beautiful gothic building. Hopefully, the new supermarket inside the complex would be providing the same high standard of produce as the David Jones food hall used to do."
CBD resident group EastEnders president, Dr Stan Capp said he welcomed the proposal, saying it had been "carefully evaluated by the City of Melbourne team to ensure the retention of the heritage qualities that make it a special part of Melbourne".
"So many times, we have seen the loss of uniquely Melbourne history and iconic buildings destroyed by bland overdevelopment and sadly destruction in some cases," he said.
I think this will complement the mall precinct and if somewhere the fabulous DJ food hall can be replicated then it will have my support.
The David Jones store at 299 Bourke St was built in two stages in 1929-30 and 1938 as the flagship store of G J Coles Pty Ltd.
Earlier this year, Newmark Capital's property general manager Angus Machutchison said once the plans were approved, the upgrade would begin once David Jones' intended closure of its menswear occurred in 2022.
He said the building would play "its part in the revitalisation of Melbourne's CBD, which has borne the brunt of COVID-19 restrictions".
The redevelopment would also see existing infilled windows being reinstated at levels one to three on Union Rd while partial demolition is proposed for the west elevation to facilitate new openings at ground floor and window openings at levels two to three.
Melbourne Heritage Action group president Tristan Davies said the proposal was "another positive development, but we note a lack of detail about the important heritage interiors, notably the cafeteria, which imply it being left more or less as is, rather than being fully uncovered and restored as it deserves" •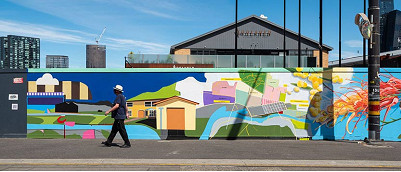 November 21st, 2023 - Adrian Doyle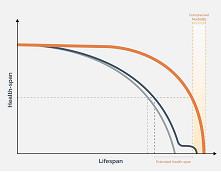 November 21st, 2023 - Susan Saunders

Subscribe
to
all
the
news
Like us on Facebook
Download the Latest Edition