No call yet on Greenline cyclists, construction due to start in April 2024
David Schout | 20th September, 2023
The City of Melbourne is still considering whether Northbank's transformation will be cyclist-free, as construction is set to begin after 2024's Moomba.
The council is weighing up whether to make Greenline a pedestrian-only path, as construction on the $300m project scheduled to start in April next year.
The council has enlisted the help of Copenhagen-based urban design experts Gehl Architects to assist in determining whether cyclists should travel on the four-kilometre Northbank trail from Birrarung Marr to the Bolte Bridge.
In a September presentation to the Yarra River Business Association, Greenline director Mark Allan said in an ideal world the "city shaping" project would allow cyclists and pedestrians to coexist.
"How do we make it a space that people feel safe and comfortable in? We're aware that people love riding bicycles in Melbourne, and we want to encourage slow speed active transport along the Greenline," he said.
However, Mr Allan acknowledged that conflicts between those on foot, and those on two wheels, has the capacity to change how people feel about a space.
For years the City of Melbourne and Victoria Police have struggled to control the shared space across the Yarra River at Southbank Promenade, with a number of accidents and collisions recorded on the busy thoroughfare.
"It's a question we're very keen to address," he said when asked if the council will bar cyclists from Greenline.
"We know that when pedestrians have to share space with cyclists that are moving at high speed, you feel unsafe and it's uncomfortable. Importantly, we're looking at a number of ways of sharing the space. We like the idea that you might be able to, at a slow speed, move along for four kilometres because for some, if you're older, that's probably a more efficient way to get along the Greenline. But there are a number of ways we'd look to do it, and that might be a combination of shared bike paths on adjacent streets, we might incorporate design treatment and materials and finishes that discourage high-speed bicycle users."
Mr Allan said the decision on whether to bar cyclists was being considered, but at this stage he did not have an answer and said Gehl's expertise would help them reach the right conclusion.
"We're really pleased to be working with Gehl Architects, Copenhagen. For those [who] have visited there, clearly the Danes have a different mindset to how bicycles work in their downtowns. But importantly what they are doing is bringing international best practice to that. So, I haven't got the solution here to say it's definitely going to be separated, or definitely going to be shared – what we are going to do is work through that as we develop the detail in the precinct plans with our designers to make everyone to feel comfortable in that space."
It was also revealed that works on site one of the Greenline project, at Birrarung Marr east of Princes Bridge, would commence in April 2024.
Originally forecast to start in mid-2023, the works will see new boardwalks and native habitats installed by the end of next year.
"We will look to execute a contract this month with a builder, to start construction immediately after Moomba. We'd like to get some early works under way in the first 450 metres, roughly from the eastern end at Speakers Corner, and we're going to build that almost to Federation Square. The program is at the moment an ambitious one, but we plan to be in the ground in April and then have that project largely finished in that calendar year."
The Birrarung Marr precinct is the first of five precincts to be transformed as part of the Greenline project, with the other four precincts (from east to west) dubbed The Falls, River Park, Maritime and Saltwater Wharf.
Mr Allan said The Falls precinct, which includes the areas outside Banana Alley vaults, Melbourne Aquarium and Enterprize Park, was a sector they have identified as having the biggest upside.
[It] is probably the one we would say has the greatest potential. Walking down there now, you can draw your own conclusions about how you feel in that space but there's enormous opportunities to bring about change.
The council has since confirmed that Symal Infrastructure has been awarded the contract to complete site one of the Birrarung Marr precinct, transforming the river's edge from Batman Avenue to the eastern edge of Federation Square at ArtPlay with 450 metres of new boardwalks, viewpoints and green spaces for play and recreation.
Detailed design and early investigative works for site one are expected to begin later this year.
Citywide sale to fund Greenline?
In September the Herald Sun reported that the council was considering to sell Citywide in a projected $300 million windfall, which could be used to pay for the remainder of Greenline.
The waste management company is a wholly owned subsidiary of the City of Melbourne that operates independently.
In response, a council spokesperson told CBD News, "We're always looking at ways to enhance our assets to improve services for the community." •
Greenline director Mark Allan provides at an update on the $300m project at a September Yarra River Business Association lunch.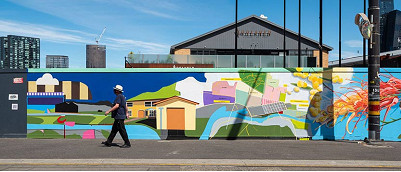 November 21st, 2023 - Adrian Doyle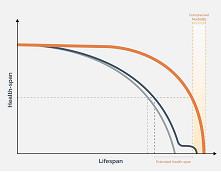 November 21st, 2023 - Susan Saunders

Subscribe
to
all
the
news
Like us on Facebook
Download the Latest Edition