No joking matter: Push for swimmable river continues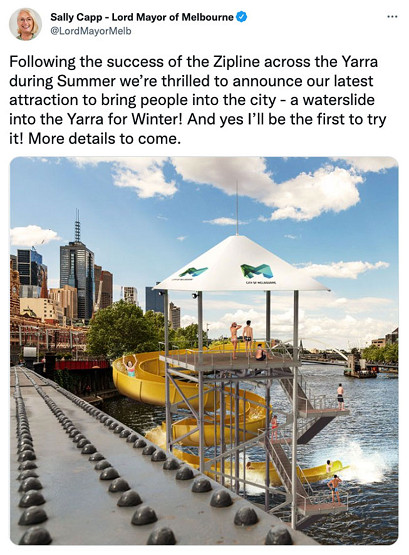 David Schout | 27th April, 2022
Despite being the subject of an April Fool's Day joke by the Lord Mayor, the push for a swimmable Yarra River has gathered pace in recent months.
On April 1, Sally Capp Tweeted an artist's impression of the so-called waterslide that would be installed on the river, next to Sandridge Bridge.
"Following the success of the zipline across the Yarra during Summer we're thrilled to announce our latest attraction to bring people into the city – a waterslide into the Yarra for Winter!" the post read. "And yes, I'll be the first to try it! More details to come."
However, the attempt at humour was not well received by some, in particular community-led group Yarra Pools, which has pushed for a swimmable river for several years.
"We couldn't be more disappointed to see that the idea of swimming in the Yarra Birrarung has been reduced to an April Fools joke by our Lord Mayor," the group said in a Facebook post.
This just reinforces the negative preconceptions about our river that we have been trying to change for years. Having a healthy, swimmable Birrarung is no joke. When we look at this render, we see what is possible.
Twelve months ago, the City of Melbourne agreed to "formally assess" Yarra Pools' proposal (for plans for a lap pool, kids' pool and wetlands at Enterprize Park next to Melbourne Aquarium) as part of early plans into its $300 million Greenline project.
However, in late 2021 the council determined the proposal was not feasible and would not progress with it.
Undeterred, the group has continued its push.
Recently it announced a partnership with Regen Melbourne, a network of more than 120 organisations and 1000 individuals that share a common vision for a regenerative Melbourne.
The network helps existing organisations push towards a common goal — in this case a "Swimmable Birrarung by 2030" — to coordinate and align their activities more closely.
This "cross-sector uplift" has already facilitated alignment between Yarra Pools, Yarra Riverkeeper Association, N'arweet Dr Carolyn Briggs (Boonwurrung Yalukit Willam Elder) and a PhD candidate at Swinburne University's Centre for Urban Transitions and Regeneration Projects.
Matt Sykes, Regen Melbourne's project lead for a swimmable Birrarung (the traditional name of the Yarra River, meaning "river of mists" in the Boon Wurrung and Woiwurrung languages), said collaboration was crucial.
"The key thing is: how do we create collective impact together? And what could that mean for the quality of life, for people and other living things in our waterways, our plants and animals, in Melbourne?" he told CBD News.
Mr Sykes said Regen Melbourne's goals did not just focus on one river-swimming place, rather the creation of a "corridor" of seven to 10 swimming spots along the river, from Docklands to Yarra Bend.
"For locals and tourists it's awesome. But it also creates those ripple experiences for community, for regenerating ecosystems, for regenerating First Nations culture … and it's not just about the swimmability — it's about all of the dominoes you need to line up to get to that point."
The group's 2030 vision features "stepping stone" achievements during the next two to three years, including a number of "riverbank swimming experiences", where "people aren't actually swimming in the river water yet, but they're getting pretty close" (for example, floating saunas or a swimming area at Birrarung Marr).
And while some may scoff at the prospect of swimming in the Yarra River, pointing to its supposed poor water quality, Mr Sykes — who has conducted in-depth research on swimming in urban environments — said it was nothing other large cities had not overcome.
"You see these global cities transitioning to, or that have become swimmable, and if you look back all of them had to go through some kind of water quality issue and stakeholder challenges. So, the precedents are there, it's just that we need to find our unique approach to making that possible."
He said a swimmable river was a key part of Melbourne's push to be a world-class liveable city and would more importantly pay it the respect it deserved.
"The Birrarung is the lifeblood — the Elders talk about it as the lifeblood of our community. It's that thing of caring for country, then country cares for us."
Yarra Pools president Felicity Watson said the group was "excited to be part of Regen Melbourne's Swimmable Birrarung by 2030 project" and advocating collectively.
"It's going to require a huge effort, but we know it's achievable. It has been done in cities around the world, and it can be done here," she said •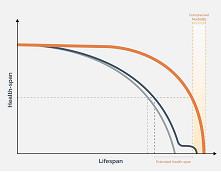 November 21st, 2023 - Susan Saunders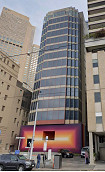 November 21st, 2023 - Barbara Francis & Rus Littleson

Subscribe
to
all
the
news
Like us on Facebook
Download the Latest Edition