Spacious penthouse for sale
Rhonda Dredge | 27th April, 2022
If you look up at the façade of 1 Exhibition St, there's a charming row of arched windows on the top storey of this early 1900s office building from Melbourne's glory days.
Peter and Ruth McMullin have been looking out these windows at the railway lines as they come into Flinders Street station and beyond for 20 years.
They're moving to a smaller place nearby and are offering up their apartment for expressions of interest.
The McMullins are social people, if not socialites, and in true blue Melbourne fashion were members of boards and hosts of parties during their residence.
"Once a month on a Friday night we had drinks for our contacts," Ruth said. "They started at 5pm. Sometimes people came straight from work."
Peter was a deputy Lord Mayor in the '90s and they loved living in the city. Their sixth-floor penthouse wasn't that far removed from ground level, and they had none of the hassles of others attending events.
Their 'hood included the smattering of cafes down below, George Colombaris's place across the road early on and an Italian cafe in George Parade more recently with great croissant toasties.
Downsizing creates opportunities. For a price tag of $2- to 2.2- million, buyers will have the benefit of one of the original apartment conversions in the city with a 17-metre outlook to the south.
There are three bedrooms, all with built-in robes, and a huge living area that feels as spacious as a mansion in Malvern.
In fact, the décor is very Malvern. All of the floors are paved with marble, except for those carpeted in grey.
The bench tops are granite. There is a double fridge, a double oven and a wide bench top cooker. There are even architectural innovations such as the slide out glass shelves for ready entertaining.
This is an executive residence par excellence with a wall for displaying books and two home offices.
The only issue is the tendency of the CBD to sprout up buildings. The sunrise is spectacular, according to the residents, but there is not much sunlight to the capacious terrace.
That hasn't stopped the proliferation of hardy plants in pots.
The apartment extends over two levels. A view of the spire over the Arts Centre is visible from the bed in the main bedroom and there are bay views from the terrace.
The entire apartment is 270 square metres and the equivalent of a small house.
There's an IGA down below if you need some quick ingredients which has made it easier for living in the city.
This is a grand penthouse with double doors next to the lifts and plenty of room for spreading out in the new era of working from home.
For further information contact: Gina Donazzan on 0412 430 326. Expressions of interest close on May 17 •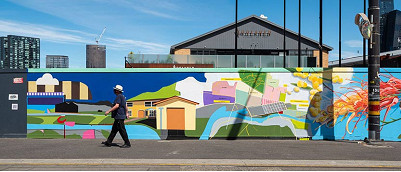 November 21st, 2023 - Adrian Doyle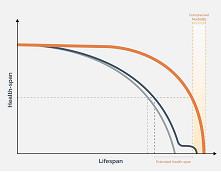 November 21st, 2023 - Susan Saunders

Subscribe
to
all
the
news
Like us on Facebook
Download the Latest Edition