Void: new gallery opens in Bourke St
Rhonda Dredge | 23rd August, 2023
The building was one of those picturesque heritage banks dotting the CBD. It was built for the Bank of New South Wales and was smaller than others. A button beneath the word "Void" opened a glass door. The staircase was elegant with iron fretwork and a walnut handrail.
Paul Handley was waiting. He stepped out onto his balcony and stood in front of the metal-framed glass door.
"I didn't even see the balcony when I rented the space," he said.
Void, a new gallery on Bourke St, has the only balcony in a five-storey building. It looks west towards the mall and the police station is next door, not bad for a post-lockdown office space.
"The city's not dead," Handley said, critical of statements by Liberal Party politicians. The gallery has just exhibited with 20 other galleries at Spring 1883 in The Hotel Windsor where art sales were excellent.
When artists move into an area it booms, witness the Nicholas Building where rents have doubled and, even, trebled recently.
The Bourke St address was better value than the Nicholas Building when Handley went looking online for a gallery space during the lockdown, he said. He has just extended his lease for another three years.
Void opened in February 2022 and the pioneering gallerist is seeking to avoid some of the pitfalls of the industry in his approach to showing art.
"I'm very influenced by my previous life in Europe," he said. "I could have gone to Brunswick but I wanted a city gallery. I was confident people would come."
Handley is starting up relationships with artists rather than signing them up in a stable, with the aim of keeping the program flexible.
"It can be exclusive or open. I can show artists represented by someone else. I'm trying to change the model."
He said he'd had some bad experiences as an artist. "I understand how galleries operate. After a successful exhibition, they've told me what I should be making, dictating practice for commercial reasons."
Artistic integrity is a feature of Handley's own work and the way he is running the business.
In Europe, his installations of life jackets have been shown at the Venice Biennale. Life jackets signify refugee tragedies in countries such as Turkey where profiteers have sold them for 100 Euro a pop for crossing to Greece.
When Handley sourced cheap life jackets for his sculptures and shipped them overseas, they were stopped at the border.
An officer told him all he had to do was attach a note saying they belonged to an artist and would be returned to their country of origin.
When asked if he thinks artists should make a fuss at borders, he said "Yes. It's absolutely essential."
There are other spaces available in the former bank for those in heritage architecture.
The next show at Void will be Louise Paramor with her small assemblages of readymade objects.
Matchfit, Louise Paramor, Void, 108 Bourke St, opens September 1.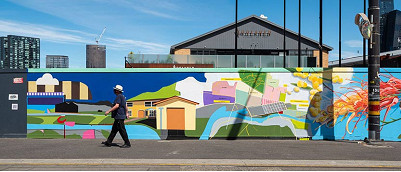 November 21st, 2023 - Adrian Doyle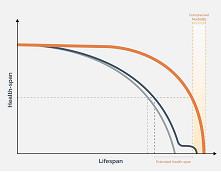 November 21st, 2023 - Susan Saunders

Subscribe
to
all
the
news
Like us on Facebook
Download the Latest Edition